October 14, 2010 § 2 Comments
Forget your morning Starbucks coffee, tea is the new way to go. Below is some nifty packaging and product designs on the brewery of tea the magical substance that makes you relax and feel better after a bad day. So brew yourself a cuppa and have a wee read (although it might make your tea bag feel a bit inferior; so be sure to take it out, don't want to hurt it's feelings hehehe).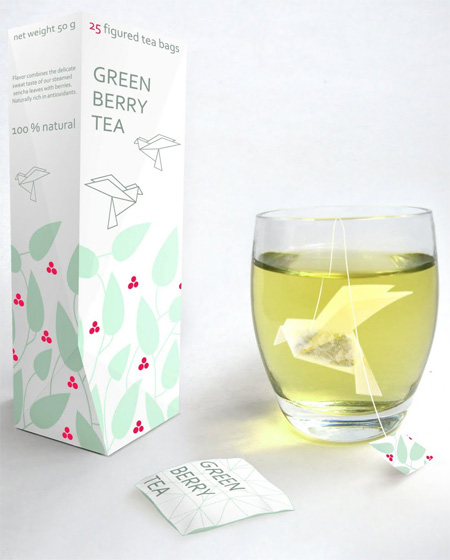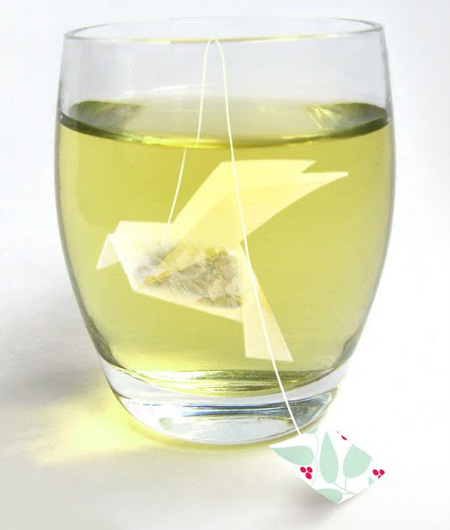 The origami styled design you see  is what inspired this post to delve deeper into the facets of tea. Unfortunately this design isn't commercially available and is only a concept, it has a very quirky nature and would appeal to many demographics with it's charming origami style that i think would be very hypnotic to see the bird unfold and take it's form. I wonder how successful would it be and how many birds would be able to fully fly in the cup? The concept was created by Russian designer Natalia Ponomareva, and has been featured in many different blogs (which i'm sure most people have viewed at some stage but just incase anyone missed it i though it would be a nice blog post. You never know maybe some day if it gains enough popularity and demand Ponomareva will be commissioned by a tea company like suki tea to recreate this lovely design.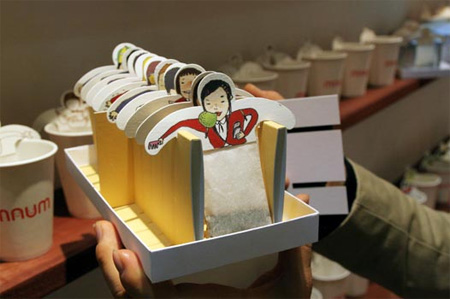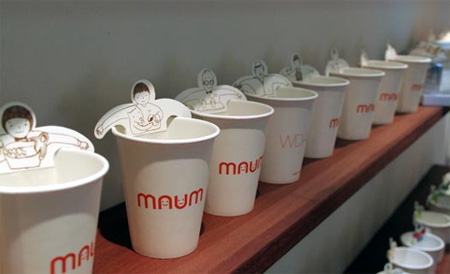 Here's another quirky design centering on the theme of tea, these nicely illustrated tea bags were created by WDARU design studio. The design are very comical and illustrated to appear like a character to bathing in a cup which in reminiscent of the Japanese culture of hot springs. There are many variations and personalities of the tea bags, wonder if there's one of me? (Redeeming features? I guess that would be Asian, slim with really long hair, and perhaps blowing bubbles or letting go of a balloon just for sheer randomness but you know what would be an idea? if they created a wedding themed one as tea in asian culture is a very important aspect especially during wedding within the tea ceremony). Going off in a tangent there but other areas of the product is the branding, it's called Maum and their logo uses a rounded san serif type with additions of two smiley faces, they are packaged away in neat little themed boxes of a swimming pool, bus and they even have a christmas themed one with rudolph and santa. The branding of the product is Maum, and to check out more on these adorable little people taking a soak in a cup check out WDARU's website.
Entitled Tea Stick or Tea stirrer created by Lee Yun Qin, not the most imaginative name for a product or brand but it represents the function of the item in it's simplest form, a tea bag and a stick to stir. Due to the simplicity of the design it also allows the user to hang the tea bag at the side of the mug, purpose? So that the tag doesn't drop in the tea! The design is very stylish and modernistic, it uses the form to double up as a stirrer but the question that's running in my head, is it necessary? Unless you like to leave your tea bag to steep i don't really think so, what i would've liked to see instead is the development of the design that combines the function of a tea bag and stirrer but also a strainer (for those who are too lazy to take the tea bag out and strain the water out so it's dry and doesn't cause leaks in the trash.) No mess no fuss.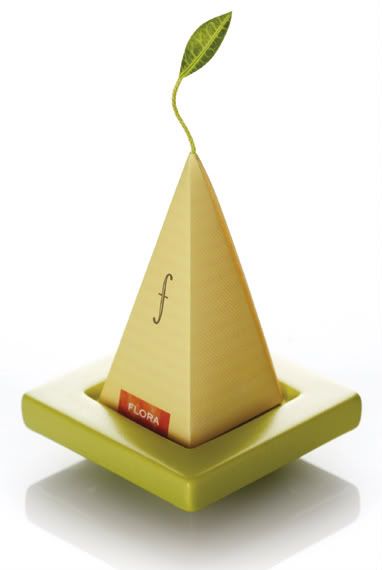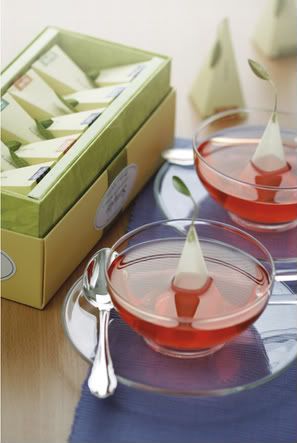 Unlike most of the designs you've seen which are mostly concepts this extraordinary pyramid shaped teabag designed by Peter Hewitt a American product designer is available for commercial purchase. Hewitt is also the founder of Teaforte the company which markets this little peculiar but elegant and enchanting tea. Here's a little interview with Hewitt that i found on this blog regarding Teaforte and how his love of tea came about. The USP of this product along with the eccentric pyramid form, quality of materials as the tea bags are silken and handmade with the wire "stem" adorned with a paper leaf that have made Tea Forte famous but also the unique and unusual flavors. You can visit http://www.teaforte.com/ for purchases or to check out some of their products, take a look at especially their teaware (will make awesome pressies for any tea lover).
This clever concept was created by designer Soon Mo Kang, as you can see Kang themed his concept around the subject of clothes including the packaging and the design of the product of the tea by using the form of t-shirts and hanger which will also similarly to the tea stirrer above can be hung on the edge of the cup. I quite like this concept, as for tea drinkers i think this is a very methodically and organized process, as different flavors have co-ordinated hangers and if you hung all your varieties of tea hangers not only will you have a very colorful collection but also allows you to attain the desired flavor relatively easily and save you digging around for the darjeeling or hibicus tea at the back saving time, effort. (It'll also save room in your cupboard for more biscuits, cakes and tray-bakes).
"Sharky is a floating tea-infuser that looks like a shark fin marauding through the dangerous waters of your tea mug that simultaneously releases streamers of steeped tea that look suspiciously like the detritus after a nasty shark attack. (Via designboom) The concept is created by Pablo Matteoda from Argentina. It's whimsical design is very masculine, along with the material in choice which appears to be a very light weight metal. This is a welcome change from the typically feminine style we generally see in both branding, product and packaging as we all know that both genders drink this magical liquid.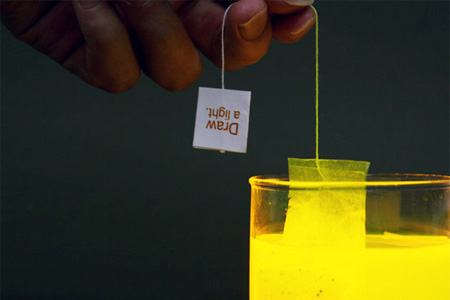 Speaking of magical liquid, this mesmerizing and innovative lighting concept created by Wonsik Chae a designer and bookmaker is one of favorites. It's not really a tea bag but it's shaped like a tea bag so it still counts as part of this post. Watch the video It show's the products functionality really well, it's very alluring and hypnotic with it's illuminations when it's dipped into the cup. The process and materials of the design consist of a cup filled with a chemical intermediate and a bag containing fluorescent molecules, the light works through a catalyst of this chemical reaction.
Well that's tea done for now, hope you enjoyed your wee read and cuppa.